3D medical model derived from CT. The developments in 3D imaging technology over the recent years have been focusing on allowing the physicians and surgeons to better see the inside of the human body, but also on creating physical models from CT (Computer Tomography) and MRI (Magnetic Resonance Imaging). Using such model a surgeon is able to perform a surgical procedure prior to even entering the operating room. Some surgeons find that minutes or hours of operating time can be saved by careful preparation using the model. An additional benefit is that the CT model becomes an ideal communication tool between surgeons and specialties. Unlike film or drawings, the model can only be interpreted basically one way, significantly reducing confusion or misunderstanding in the communication process. It also helps to prevent any
mistakes.
It is worth remembering that communication between clinician and patient is often crucial to the success of orthopedic surgery. It is also important for maxillofacial and dental implant planning. The three dimensional models are obtained directly from a patient's CT scans and make truetolife replica of the anatomic area of interest making it easier for the patient to take conscious decisions about the treatment to be followed. Instead of looking at a textbook drawing or a generic anatomical model, the patient can look at visualization of the procedure on their own model.
Other examples of application of that technology are models of bone used in implants training
for clinicians obtained from CT or STL file. The plastic materials used in 3D printing technology give only a copy of the shape of real bone. Importantly, the PROMEDICUS technology gives you also real technical parameters of the model and as a result such model could be drilled and cut as a natural bone. Also the price of such models for training
for a group of clinicians are more reasonable comparing to models printed in 3D technology.
3D Training Complex Procedure PROMEDICUS is delighted to offer you a new product of the 3D Complex Training Procedure line. It can be provided in two ways. One is based on a file in the STL format, delivered to us by the customer. Alternatively we can use your DICOM file from CT to produce models based on the real patient case. With 3D model of a given medical case, you can show the distinguishing features of your implant system, preparing relevant training models. It is important to specify density / hardness of the bone model at the time of your order.
3D Complex Training Procedure models allow presentation of the complicated procedure relating to a specific difficult case during the implantation trainings and also can reveal the results of the treatment few months following surgery. With our CT models you can present clinicians with the entire treatment process:
● presentation of CT images before the surgical treatment,
● review the difficulties and limitations related to a given medical case,
● planning of the the implant procedure or other treatment options (based on the CT images)
together with the physicians,
● implant training performed on the bone models prepared by us,
● review of the surgery results on CT images, after a surgery performed on a particular patient case whose CT images constituted a base for the production of the models.
How we prepare 3D model based on CT file
We can apply our technology to produce human models for orthopedic and dental application. We can also produce animal bone model. We would use a DICOM file of a particular medical case, provided by you, generated directly from CT or CBCT scanner. Fig. 1 and 2 below present particular case of CT imaging.

Fig. 1 and 2. the photo obtained from CT medical examination of men.
This file is converted by us to STL image. The STL (stereolithography) file format is commonly used on most 3D printers or rapid prototyping machines. Other standard formats include AutoCAD DXF, IGES and 3D Studio file formats. During that converting procedure all the artifacts and errors existing in file are removed by software specialist having background in that proceeding. Fig. 3 and 4 below present results of conversion file DICOM to STL.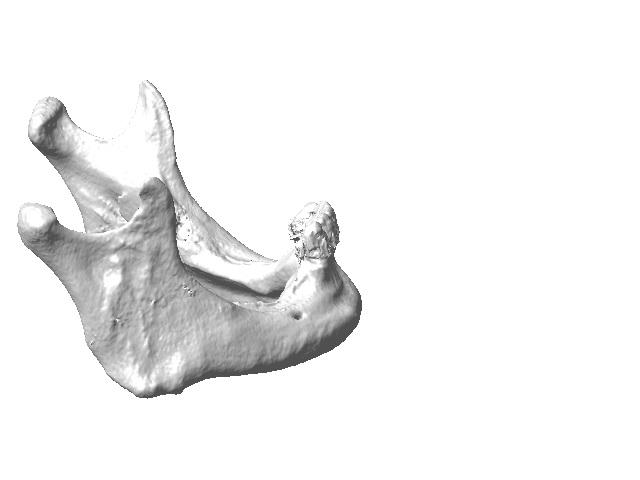 Fig. 3 and 4. STL image of the skull.
During the converting process we are able to remove particular elements of a bone to expose originally obscured element of a model to enable more efficient training. In the example presented below (Fig 5) a bone between eyes and sinus was removed to show the bottom of the maxillary sinus for sinus augmentation training.


Fig. 5. STL file with removed element of bone.
In the next step we use 3D printer to make a prototype in the 3D printing process and submit the model pictures for approval of a customer. A 3D printer takes the surface model and automatically creates a physical model using material such as resin, power or plastics. This process can take minutes to hours depending on the material and complexity of the model. Based on the prototype we produce ready to use models with semi natural material having parameters of natural bone. A customer decides the hardness/density of the model.

Fig. 6 and 7 presented prototype and ready to use model for doctor training.
Once the prototype has been approved by the customer, we will produce 20 to 50 units for the first workshop training. With the new system consisting of those types of models we are positive we will be able to meet your individual needs and emphasize the individual advantages of your implant system. The use of our models will enable you to make your implant training a much more realistic experience and as such achieve most of it.